TRANSFORMING DISCARDED MATERIALS INTO WORKS OF ART
Upcycling Artist
William Amor's unique artistic vision sprang from a desire to create art that has an element of poetry, celebrates nature and helps protect the environment. Through his unique creations, which are full of meaning and evoke an emotional response, the artist offers a different perspective on the world surrounding us, including items whose presence, existence and origin we may have forgotten or disregarded.
The artist's philosophy, which runs through his work, is to create artworks that urge the viewer to leave behind any preconceived judgements regarding what constitutes something of value. William Amor uses waste materials generated by our daily life and discarded materials that cause pollution, to create works of art that are inspired by nature and living beings, which he has named Les Créations Messagères (Artworks with a Message). Driven by his commitment to addressing the important environmental issues of our day, and by his own artistic vision, he transforms polluting plastics to create a unique artistic signature, developing and creating his own techniques, some of which are borrowed from the applied arts.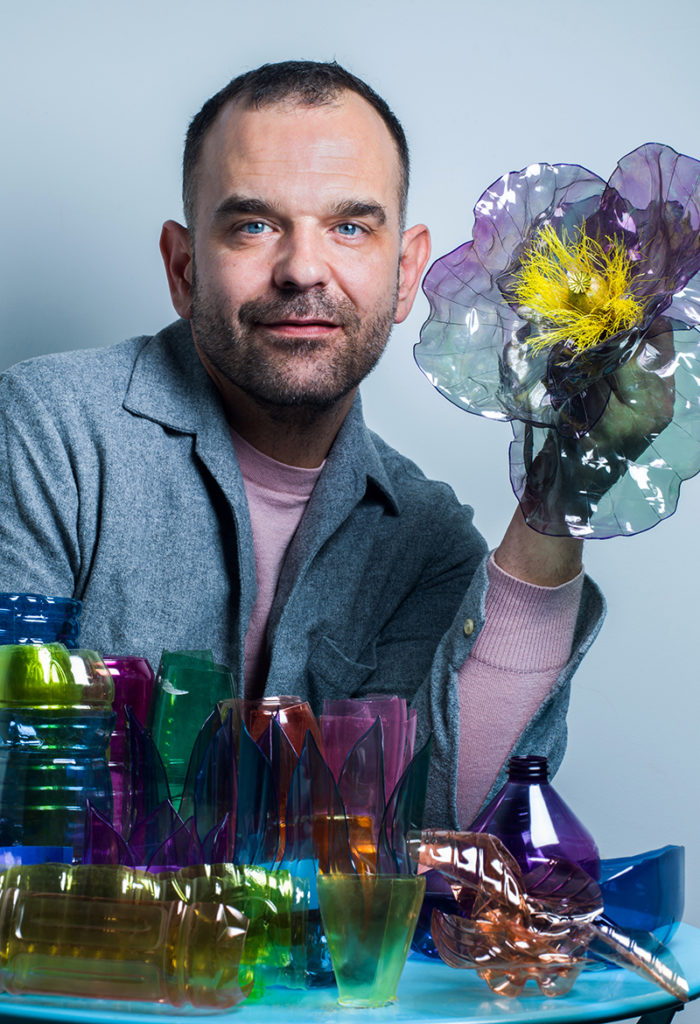 These waste materials generated by our everyday life become unique pieces that are full of meaning, transformed into something of true value. The artist distils a touch of beauty and poetry, while raising awareness about how overconsumption leads to pollution. The recurring theme running through William Amor's work is that he continually strives to create meaning and shed light on the fundamental values that can get forgotten in today's society.
Les Créations Messagères was created in the 2000s, through a process of transforming plastics that had been discarded in the natural environment.
'Plastic litter is a horrifying symbol of the excesses of our society and of the catastrophic effects this has on all of nature. It is a sacrilege to view a material that cannot be broken down and that has been made from non-renewable resources as a single-use material. This is a value judgement that has serious and far-reaching consequences.'
There is an element of poetry to William Amor's designs, which carry a message, evoke an emotional response and seek to change the way we look at things. A piece of discarded plastic can become the most beautiful and sensual thing on earth: an exquisite flower that is both fragile and graceful.
Grand Prix de la Création de la Ville de Paris (City of Paris Awards for Design, Fashion, Arts and Crafts – 2019 Winner), Banque Populaire Foundation (2019 Winner), Remy Cointreau Foundation (2020 Winner), EY Foundation (2019 Winner), Les Ateliers de Paris (Artist in Residence, 2017 – 2019).
2022
Paris City Hall (Hôtel de Ville de Paris) / Dosne-Thiers Foundation, Institut de France, European Heritage Days 2022 – Masséna Museum, 'Nice, Queen of Flowers'. Curator Mr Jean Jacques Aillagon – Homo Faber, 'Crafting a More Human Future' – Revelations, Grand Palais Ephémère, 'The Dance of the Petro-Jellyfish' ('Le ballet des pétro-méduses') – Beaugrenelle Centre, 'Bottles at Sea' ('Les bouteilles à la mer')
2021
Cognacq-Jay Museum, 'William Amor X Cognacq-Jay' – By Chatel Gallery 'Pop Art 2' – Paris City Hall / Galerie Lafayette 'Talent of Paris / Paris My Love' ('Le Paris des talents / Paris Mon Amour') – Mobilier National 'Materials at Work' ('Matières à l'œuvre')
2020
Maison Guerlain, 'William Amor Exhibition' – BHV Marais / Paris Design Week, 'Material Savings' ('Économies de matières') – By Chatel Gallery 'Banque Populaire Foundation' – Joyce Gallery 'Emerging Talent' ('Talents à suivre')
2019
Revelations, Grand Palais, 'Flight of Poetry' ('Envolée Poétique') – Drouot, 'Techniques & Materials' ('Manière Matière') – Drouot, 'Techniques & Materials' ('Manière Matière') – BHV Marais, 'Design Italia' – Rossana Orlandi Gallery, Milan, 'RoGuiltlessPlastic' – Leonardo da Vinci National Museum of Science and Technology, 'Railway Flowers' – Palais des Congrès Convention Centre, 'Suspended Spring' ('Printemps suspendu') – Rossana Orlandi Gallery, Milan, 'RoGuiltlessPlastic'– House of Doctor Gachet, 'Gardens and Delights of the Val d'Oise' ('Jardins, joies du Val d'Oise')
2018
Paris City Hall (Hôtel de Ville de Paris), 'Heritage Days 2018' – Renaissance Paris Arc de Triomphe Hotel, 'Winter Garden, William Amor X Marine Peyre' ('Jardin d'Hiver William Amor X Marine Peyre')
2017
Paris Museum of Decorative Arts (Musée des Arts Décoratifs de Paris) – 107 Rivoli, 'Christian Dior Exhibition'
2016
Château Maison Lafitte, 'Utterly Confounded' ('Totalement Désarçonnés') – Viaduc des Arts / Hervé Ébéniste, 'All-nighter 2016' – The Stalingrad Rotunda / Syctom, 'Paris Design Week' – Galerie La Marraine / Musée du Luxembourg, 'After Fantin-Latour' – VIA Gallery, 'The off-shoots of plant-inspired art and design' ('Les off de l'art et du design végétal') – Château d'Auvers-sur-Oise / Les Irisiades, 'The Eden of Modern Times' ('L'Éden des Temps Modernes') – Les Ateliers de Paris / JEMA 16, 'Designers in Solidarity' ('Créateurs solidaires')
2015
The Fashion Front (Le Front de Mode) / COP 21, 'Recycling centre, Luxury Florist' ('La déchetterie, Fleuriste de Luxe')
Collaborations
Collaborations that have borne fruit, producing new artworks with a message
Beaugrenelle Centre / Apsys Group – Rare Champagne / Piper-Heidsieck – Richard Mille – Havas – L'Oréal Luxe – Cointreau –  Dior – Guerlain – Chanel – Icicle – Kenzo Fragrances – City of Paris (Ville de Paris) – Les Canaux – Banque Populaire Foundation – Banque Populaire Federation – Pomme d'eau – AGEFI – Creature Agency – Rocher Group – Financial Times – Viktor & Rolf – Lesage – Melvita Japan – Renaud Pellegrino – Veolia – RIVP – Remy Cointreau Foundation – Les Ateliers de Paris – INMA – GEAI – Marriott Hotel – Pochet Group – Department of Val d'Oise – Landmark Hong Kong – France Médias Monde – Arteum – Paris Museum of Decorative Arts (Musée des Arts décoratifs de Paris) – Louis Quatorze – Eve & Daphnée Perfume…