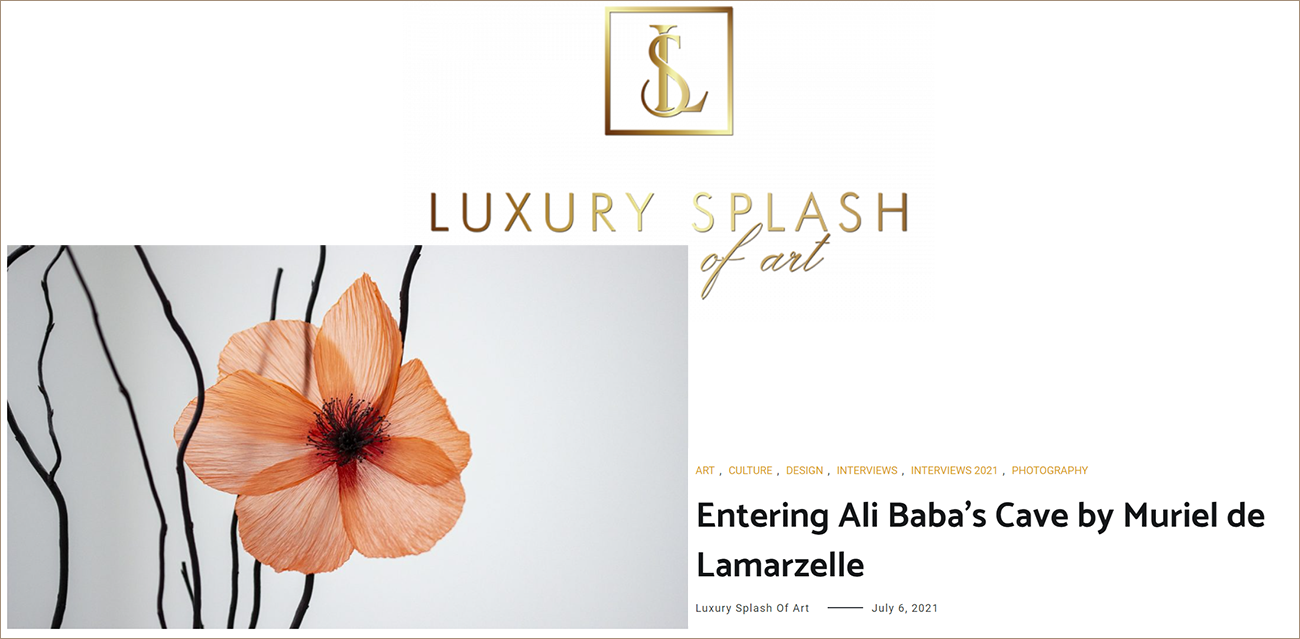 WILLIAM AMOR – Entering Ali Baba's Cave by Muriel de Lamarzelle | Luxury Splash Of Art (U.S.A.)
Able to transform plastic pollution into eco-responsible and poetic flowers, William Amor is an ennobler. A self-taught French visual artist, he turns ugly, discarded plastics, consumer products and waste into sublime objects of beauty. The storyteller, vividly and sensually transmitting "poetry of flowers," Amor triggers our emotions. Through "Les Créations Messagères" he asks us to ignore these troubled times. He uplifts us, shows us the possibilities of being environmentally conscious by turning everyday waste into exceptional pieces. When I met William 10 years ago he was working on behalf of Duda, a "doll of dreams" project intended to support a small fishing village in northeastern Brazil. The principle was to associate designers with local know-how to raise funds, and these "dream carrier dolls" (designed by Marine Peyre) bore the name of a village child.
His creations, all with distinct messaging, ultimately began appearing in major galleries, and international brands adopted his scenographies for their "socially conscious" advertising. Once his "Materials at Work" were exhibited at Paris' Manufacture des Gobelins earlier this year, I wanted to know more about his floral universe
LSA–Hello. You grew up near Nancy. Please tell me about your childhood.
WA-– My father, a craftsman, his legacy was his versatile approach to work. This made a strong impression on me. As a child I was hypersensitive with a great ability to feel things. I lived in a bubble, open to emotions. I took refuge in nature. All the books I owned were flora and fauna encyclopedias. I nurtured a little piece of garden that my parents had allocated to me. I collected a vast array of plants, especially singular plants.
LSA– What sparked this passion?
WA–In that bubble I found life, nature, animals, flowers. What beauty! A small bulb that looks like nothing can become an incredible living being of great loveliness and gentility. I was drawn to their aesthetics as much as by their perfume. I can find great pleasure in watching a ray of sunshine on the grass.The flower is such an evolved plant being. It transforms solar energy into energy and food through photosynthesis. With her beauty, her aroma, she captivates us. She is a real seductress.
LSA–What is the first medium that you used to express this passion?
WA— Trees, flowers are alive, and their incredible beauty fascinated me. I can spend hours observing the architecture of a tree and the patterning of the leaves. When I looked at the plastic bags I found the spirit of a real petal. I am inspired by nature, light, reflections, minerals and textures. But I take liberties with nature by creating flowers that I adapt much like a 21st century botanist.
LSA–How did you learn the different techniques used for this recycling? What are the distinct steps in this creative process?
WA— I am self-taught by nature. But I went through many experiences before I found a successful interpretation. I worked with jewelry designers and I studied the assemblies. I have created my own gestures which are constantly evolving. I collect waste. I remove all the markings, glue, labels, inks, etc. I clean the bottles, bags, cigarette ends, ropes, etc. I make the first cuts to make the support passable, then dye, flatten the materials. I cut lace, petals with scissors, scalpel and cookie cutters… I do a lot of hot and hand sculpting. I engrave. I connect the elements with invisible glue dots that I can also replace with embroidery stitches. I collect many materials…Q-tips, aluminum can, straw, plastics…, My cellar is an Ali Baba's cave!
LSA–What triggered this dramatic life change, and did you go through a difficult time, financially and emotionally?
WA- I decided one day to leave my garden when I had started studying genetic biology. I learned to listen to myself. It's been a long journey. The trigger came in 2010, the Duda project, the doll carriers, which provided support for Brazilian villages through the Terra E Sonhos cooperative. . Agitating for this project, I felt my mission was to make it shine. To adopt a doll was to adopt a dream and to contribute to the education of village children. Later I received the Emergent Talent prize, crafts category, of the Grands Prix de la Création of the city of Paris in 2019. That was real recognition. I was also recognized by the Michelangelo foundation of the Richemont group, accepted into the Homofaber guide of 1000 European artisans. ..
LSA–What changed your outlook on waste?
WA–In 2007 I found myself in a dark Parisian apartment with no outside space. That was a difficult period without nature, without light. I started making my own flowers with everything I saw in an urban setting, like objects that nobody wanted anymore, garbage and especially plastic bags. They were transparent, like flower petals. Flower petals are luminous, and I began creating flowers of light. Consumption gives us pollution and waste. In comparison, the flower is the poetry of a happy life. I call myself a finisher of materials and an artist of nature.
LSA–Please tell us about your current projects.
WA–In 2018 the Landmark Mall in Hong Kong wanted to exhibit a socially-committed project. For them I created my first giant installation, 13 meters high, which represented 4,200 hours of work. In 2019 in Milan the Railway Flowers. I was selected by Rosanna Orlandi, a very influential Milanese gallery owner and specialist in contemporary design. I am currently working on various exhibitions for the next Paris Design Week in September 2021. I want to generate a societal impact. When I collaborated with Kenzo in 2019 on the Messenger Poppy it was to send a message of hope. 50% of sales were donated to the Care association in Morocco for an association of women.
LSA-–Your appreciation of details helps the disabled find a way to concentrate.
WA-– In 2018, on the occasion of the Hong Kong project, I worked with ESAT, Les Ateliers du Moulin in Essonne. They mainly help mentally handicapped people. I wanted to give access to artistic professions to the disabled who live on the margins.
LSA– Are there any new projects you would like to tell us about?
WA–The mimosa series was created from used cigarette butts that take 15 to 20 years to degrade by releasing their toxins. I cleaned, removed toxins, bleached and after colorizing I made a prototype. Today I make ornaments, create orange trees which are mounted like jewels and I develop marquetry with cigarette butts.
LSA–Are you part of the trendy upcycling movement?
WA– Reuse of waste is my passion. A planetary concern guided Le Petit Prince in the Antoine de Saint-Exupéry book. It is my bedside book. A symbolic guide to life. "If someone loves a flower that only exists in one copy in the millions and millions of stars, that is enough to make them happy when they look at them …"